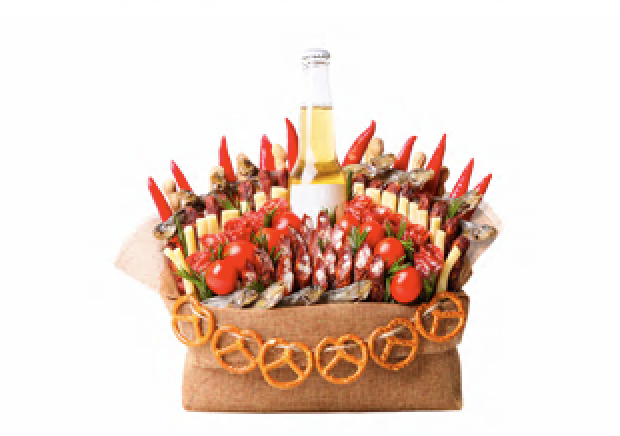 It's that time of the year! Whether you are seeking a perfect gift for your Grad or looking for something fun to give Dad for Father's Day, our great state of Texas has you covered!
To save you time, we have hand-picked some of our favorite ideas to congratulate those who mean the most to you during this festive time of the year. From baskets of snacks to local brews and sauces for the BBQ, the following "Tastes of Texas" gift selection is just the start of the best gifts for Grads and Dads this year.
For pictures and to make a purchase, click into each selection below.
If you are planning on celebrating with the entire clan, "The Grand Tour of Texas" gift basket is a super-sized option. Packaged in a Texas-themed tin bin, this gift overflows with a pile of Texas-made goods.
– 1 lb Milican Pecan Co. Fresh Pecan Halves
– 24 pcs Lammes Texas Chewie Pecan Pralines
– 2 x Cin Chili Mixes
– Whittington's Beef Jerky 4oz
– Lone Star Snack Mix
– Mikey V's Garlic Sprinkles
– Longhorn Snack Mix
– We're Nuts For You In Texas Snack Mix
– Jalapeno Dip Mix
– Fredericksburg Farms Longhorn Dip
– 2 x Thunderbird Bar
– Meyer's Elgin Smokehouse Seasoning
– Hobi's Bites Crackers
– Texas Trail Mix (4oz)
– Bravado Spice Hot Sauce Set (4 flavors)
– Milican Pecan Co. Mini Pecan Pie
– 2 x Texas Shaped Pralines
– Texana Brand Olive Oil
– Stroope's Wildflower Honey Bear
– SuckleBusters Championship BBQ Rub
– Reusable Texas Tin (17" x 11" x 6")
Your Dad or Grad will go nutty over this one! With seasonings for the chef or snacks for the kids, this is win-win for anyone who has an affection for the State Nut of Texas.
– Lammes 6oz Pecan Pralines
– Millican Pecan Caramel Pecan Popcorn
– Millican Pecan Roasted and Salted Pecans
– Millican Pecan Fresh Pecan Halves in Burlap Bag
– Millican Pecan Syrup
– Millican Pecan Mini Texas Pecan Pie
– Golden Gals Texas Shaped Praline
– Millican Pecan Cinnamon Pecans
– Millican Pecan Honey Roasted Pecans
– Texas Olive Ranch Pecan Balsamic Vinegar
– TeGar-den Farms Pecan Jelly
– SuckleBusters Texas Pecan BBQ Rub
Everything's big in Texas and this is no exception. Any Grad or Dad will appreciate breakfast in bed – and this basket pulls it all together with Texas goods wrapped in a Texas-shaped tin.
– Sow Good Smoothie
– Wildway Hot Cereal (4 Packets)
– 2 Wildway Single Serve Granola
– Austin Jam Co Single Serve Jam
– 2 Vicky Cakes Flavored pancake/waffle Mix
– Vicky Cakes Syrup
– 2 Bella Bars
– 12oz Café Latina Texas Rum Coffee grounds
Completing our list of our favorite gifts for the Dad and Grad is this all-inclusive BBQ & Beer Gift set.
Grill Set – Included in a fully-lined aluminum case is a complete set of BBQ tools, grilling skewers, corn holders, basting brush, and salt & pepper shakers, too!
PLUS
– Hardbite Smokin' BBQ Cips
– East Shore Dipping
– Bruges Classic Chocolate Covered Blueberries Pillow
– Braswell's Great On Anything BBQ sauce with Vidalia Onion
– Campi Verdi di Toscana Balsamic Vinegar of Modena IGP
– Campi Verdi di Toscana Extra Virgin Olive Oil
– Grant & Mein's Fine Spice Company Montreal Steak Spice
From our family at Juniper Springs apartments in Austin, may your celebrations be everything that your Dad and Grad deserves!