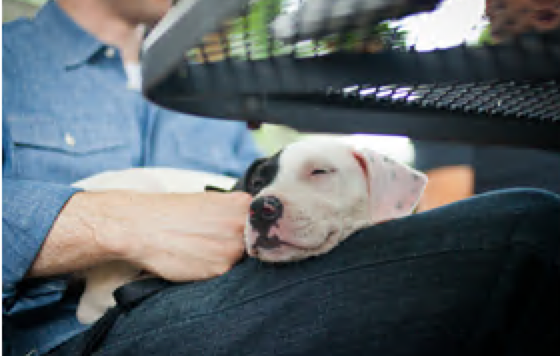 Really? Over 500 restaurants in Austin that welcome your pup? That's the dog-gone truth! Within a short drive from our pet-friendly apartments in Austin there are some of the tastiest spots to take Spot out for dinner.
Kerby Lane Cafe
As long as your pup is on leash, you and your best four-footed friend are welcome to Kerby Lane Café. Since 1980, the family at the Café has been serving home-made sandwiches, tacos, and brownie fudge sundaes from their 1930's bungalow in Central Austin.
In the beginning, it was a cozy apartment for founders David and Patricia who operated a quaint little restaurant. Today, it's still family owned and operated and is one of the iconic restaurants that welcome the whole family.

Maudies
Some of the best Tex-Mex food awaits you and your pooch at Maudie's Milagro in Austin. Since 1954, it's been a top spot for home-made cooking. Going back several generations, Maudies was originally an 810sf spot to stop in for classic biscuits and gravy, chicken and dumplings, and ice-cold beer. Turning from homestyle to Tex-Mex in 1993 with the instrumental guidance from family, friends, and fans, they have turned Maudie's Tex-Mex into an Austin Icon, a Tex-Mex family staple serving multiple generations.
County Line
On the Lake and a great place to take a break, County Line welcomes you and Fido too. Bring an appetite as its mouth-watering, lip-smackin' barbecue menu will fill any void. Overlooking Bull Creek, its outdoor deck offers sunshine or shade for you and your dog, too. Be sure to order some of their award-winning ribs, brisket, or spicy sausages.
History notes that the County Line was formed by some Texans who loved Austin, loved its heritage and historical buildings, loved BBQ, and love serving running their restaurant based on four principals (as noted on their website):
First:
Offer the highest quality smoked barbecue – ribs, brisket, sausage, and chicken – with traditional sides of cole slaw, potato salad and beans.
Second:
Provide these BBQ specialties in generous portions at reasonable prices.
Next:
Offer friendly table service with linens and bar service.
Finally:
Feature an authentic location that celebrates the heritage of Texas.
And check this out:
In 1990, The County Line Restaurants began shipping its legendary barbeque to all parts of the United States by Air Ribs. The same quality products that you've come to enjoy in the restaurants can be shipped right to your door. What better gift could you give your family or friends than to have The County Line cook for dinner?