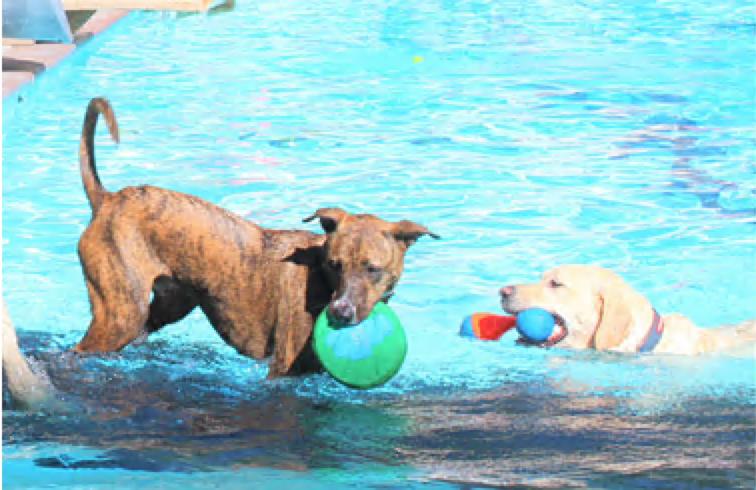 \
Whether you have a dog or not, you will find that the following parks offer plenty of escape from everyday life. This month, we are showcasing some of our favorite parks that not only welcome dogs to roam free they are also perfect spots for a picnic in the shade or morning stroll. All of which are just a short drive from our apartments in Austin.
Red Bud Isle
There's water, water, everywhere at Red Bud Park – which means everything to your pooch. Running leash-free, they can splash all around while you sit unplugged on a sunny afternoon. Rather play in the water. Red Bud is also a popular spot for kayaking or canoeing or taking a hike with your furry friend by your side.
Here's a hint: go early in the day as it's a popular spot and parking is at a premium.
Auditorium Shores at Town Lake
This is a super spot for that the whole family can enjoy for a day, or for a get-away. We like to pack up and plan a few days of fun at Auditorium Shores. If you choose to campout, be sure to get your reservation way in advance.
What to pack? Take it all! This dog-friendly park is well-planned with volleyball and basketball courts and fields to toss the ball for Fido or just a friendly game on the turf. And there's plenty of water sport opportunities so take the kayak, canoe bring your boat and don't forget the fishing gear.
Rather take a quiet stroll? Their trails are well marked and always nice for a morning or evening walk in the park.
Norwood Park
In addition to the history of this beautiful park, the views are worth the trip to Norwood Park. We prefer to go here for its hiking trails while our dogs look forward to the park's gated area (for smaller dogs) or in the large, shaded area where they can play with their pals as we hang out and enjoy some well-deserved downtime.
While you are there, be sure to take some time to explore the Norwood House. Its history dates back to 1922 when it was an arts and crafts bungalow. In 1985, the City of Austin acquired the property as part of the park. Unfortunately, funds were few and it was neglected for years.
Fortunately, the Austin Parks Foundation (APF) has stepped up to renovate this historic building. Here's the good news as announced by Colin Wallis CEO of APF
"At APF we're dedicated to partnering with our community to improve our treasured public green spaces. Norwood House and the surrounding parkland is truly a natural and cultural treasure for Austin. The restoration of this public space will be such an enriching gift to our community, and a valuable asset that everyone will be able to enjoy. We are thrilled to be able to support this project. We hope Austinites will be as enthusiastic as we are for the future of this historic estate and that the necessary funds to restore it will be quickly raised so construction can begin."