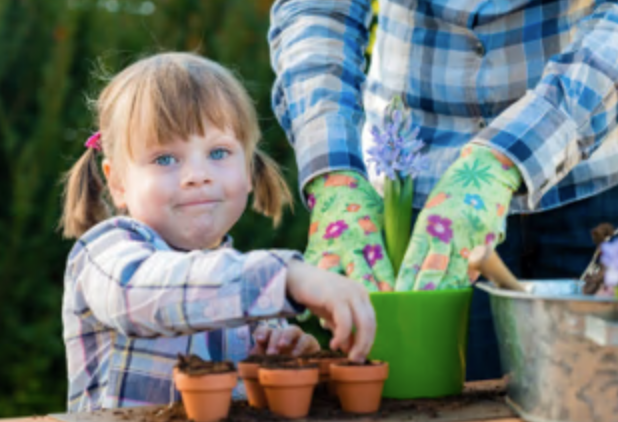 Whether it's Mother's Day or not, there is always a reason to stop and make some time for Mom! And throughout the city of Austin and beyond, there are so many ways to thank the one that means so much to you.
We asked our team at our apartments in Austin for ideas on what they like to do to spoil their moms and now share the list with you!
Have fun!
Plant Pots for your Front Porch
Ah, sunshine and warming temps! Just the right weather for getting your hands dirty to put some color in and around your home. To get you started, head to one of the many nurseries in Austin. Pick up some colorful pots, a bag of potting soil or two and help Mom select a few of her favorite flowers that you can enjoy year-round.
Not into gardening, no worries! Go see and stroll through some of Austin's best gardens at Laguna Gloria, Mayfield Preserve, Zilker Botanical Garden and the famous-for-all reasons Lady Bird Johnson Wildflower center.
Make it A "Date Day or Night"
Always a 'must-do' with Mom is one of the many events planned particularly for this special day. This year there are some nice options from which to choose. If she enjoys classical music, The Austin Symphonic Band will be performing at the Texas State Capitol. Prefer Ballet? Go see Swan Lake performed by Ballet Austin. For those who are aficionados of Shakespeare, head to Zilker Hillside for a free showing of Midsummer Night's Dream.
Not into something that formal? Join our gang at Bollywood in the Park on Saturday night or any Saturday night for a summer-filled stage with local and nationally acclaimed bands of all genres. Oh, and don't forget to fill your Google calendar with a few nights of free music during the Hill Country Galleria's concert series.
And, if she's a fan of chocolate, there's complimentary chocolate covered strawberries waiting for her at Safari Champ's Mother's Day. Ge their early and they will toss in a gift card for a free collagen mask!
Get Out and About
Throughout the years, we have filled our Blogs with almost endless things to do and see in Austin, and this edition continues the trend. On this special day in particular, just unplug and plug into the great outdoors with Mom by your side. Our top picks?
• Lady Bird Lake for a stroll along the Lake
• Leisurely boat ride with Capital Cruises or on the Lone Star Riverboat for a snack and sip of something bubbly
• Lakeview dinner at Hula Hut, County Line, Mozarts or our favorite, The Oasis
For more ideas on how to spoil your Mom this year and in years to come, come back to our blog later this month!
On behalf of our entire family at Juniper Springs Apartment Community, we wish all the Moms in our community a happy and memorable Mother's Day.