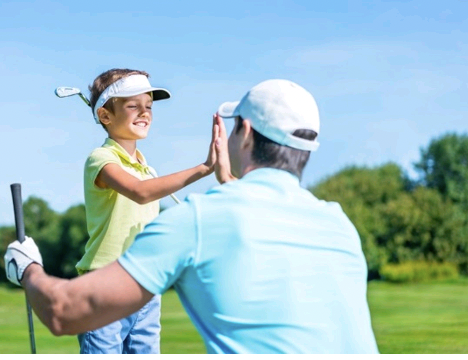 Earlier this month, we polled our family at Juniper Springs apartments here in Austin about their plans for Father's Day and then posted them on our blog. There were so many great ideas that we chose to make this a two-part series. Keep reading below for more ideas on what to do and where to go for Father's Day in Austin!
Hit the Links
Within the concept of 'country club membership options, Lost Creek Country Club is an ideal option for those who seek long days on the links, balanced with fine dining and other recreational opportunities. Throughout this 'family-focused' development, members can participate in rounds of golf on its newly renovated 18-hole, Par-72 course complemented with everything one would expect from its first-class amenities. The facility offers a driving range, putting green, and a brand-new state of the art learning center to encourage the beginners and excel the most advanced.
Plan a Paddle
Take a paddle with pop on one of the many lakes and streams that wind in and around our city. Or better yet, pick up a gift certificate at Austin Kayak Tours and learn how to paddle board or kayak through the waters at Lake Bird Lake.
Sip Some Whiskey!
Is he a fan of locally distilled drinks? Take a tour of the town (and be the "DD")! Still Austin Whiskey Company offers guided tours and tastings for the novice sipper to the most sophisticated whiskey aficionado.
Or Have a Cold One, or Two…
More of a beer guy? There are so many breweries in Austin that you will need more than just one day to experience the local establishments that pour award-winning pints. Our team's top picks include …
• Austin Beerworks
• Hold Out Brewing
• Independence Brewing Company
• Jester King Brewery
• Live Oak Brewing Company
Make it a Date – with the Family in Tow
Drive down and park it for a movie night at Blue Starlight! Promoted as the world's one and only mini-urban boutique drive in theaters, the Starlight is a must-do on Dad's dad or anytime during the summer months. It's a classic experience that should be shared with all generations whether there's a celebration or not!
Wander through the Wildflowers!
One of our favorite things to do is to pack up the family and head out to Texas Hill Country to soak in the sun and spectacular wildflower blooms and wellness sessions at the Lady Bird Johnson Wildflower Center.
Go 'Birding'
For the naturalist in your life, this is an adventure you won't want to miss. Join birders from Travis Audubon and horticulturists from the Wildflower Center on a morning walk. Your guides will help identify migratory birds and the native plants they rely on for food and shelter. Bring binoculars to see what feathered friends are passing through.
Book a Dinner Date
Modeled after their family's ranch, the family at Contigo has been entertaining Austin locals and visitors alike for over 30 years. What we like best about Contigo is its consistently fresh, local, quality food and of course, their famous margaritas! In the evening, the Tivoli lights add to the atmosphere for a perfect place to take Dad out to dinner on Father's Day.
Go Out For Seafood and the View
For some of the freshest fish and oysters in Austin, Perla Perla's Seafood & Oyster Bar is the place to be. Owners Larry and Tom ensure that the food you enjoy is fresh from the ocean (on both coasts) where they fly their favorites in for you on a DAILY basis! Perla's also offer their suggestions for pairing the perfect meal with the perfect blend of wines from their extensive wine list. Known throughout the City for one of the prettiest patios in the South, it's a top spot to spoil your pop on Father's Day.